Google has finally announced that the next version of Android will be named Kit Kat. Google and Nestle announced earlier this week that they are teaming up to promote the latest Android software for smartphones and tablets. There were rumors that next Android version would be known as "Key Lime Pie", though that name was never officially confirmed by Mountain View. Android has been developed by the company's engineers under sweet-themed names ever since the release of Android Cupcake in 2009 and continuing in alphabetical order until the most recent version, Android Jelly Bean.
On my return from Asia, I was thrilled to find this guy waiting to greet me on the front lawn — love the new #AndroidKitKat statue and can't wait to release the next version of the platform that is as sweet as the candy bar that's one of our team's favourites. Head of Android, Sundar Pichai.
To mark the release of Android KitKat, more than 50 million specially branded KitKat bars will be available in 19 countries, including the U.S. The packs will lead consumers to the website where they will have the opportunity to win prizes including 1,000 Google Nexus 7 tablets or 150,000 $5 credits to the Google Play store for apps, games, music, movies, and books. Plus, a limited number of Android robot-shaped KitKat bars will be offered as prizes in select markets.
You just have to follow these steps :
You have to buy a special marked Android Kit Kat candy bar.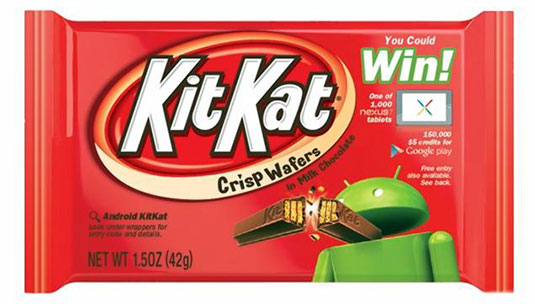 Then you have to enter the code which is inside the wrapper.
If you are lucky, you will be notified.
A joint statement from Google and Nestle did not give a release date for Android KitKat, although some observers expect it to be launched this fall.
Do you like this post?